---
1970 MG Midget Mark III
While still in high school in 1973, I bought this MG Midget used in Wichita Falls, Texas. I used it to get to work at Mayo's Steak House, and used it my first year at college.
1275 cc four-stroke, four-cylinder, engine with dual carburetors (see specifications below)
Purchased used in 1973 in Wichita Falls, Texas from Jimmie and Marsha Snyder Green
Sold in 1976 in Austin, Texas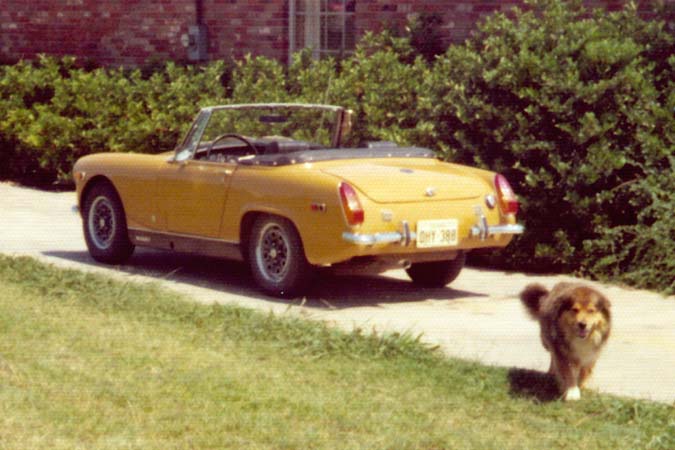 The newly repainted MG Midget in our driveway on Melanie Lane, Iowa Park, Texas, sometime in 1975. Happy Feller, a stray who adopted us as his family, is probably my all-time favorite pet.
Specifications (mostly from online sources)
Engine and Transmission
| | |
| --- | --- |
| Cylinders | 4 in line |
| Bore and stroke | 2.78 in x 3.201 in; 70.6 x 81.3 mm |
| Total displacement | 1275 cc; 77.8 cubic in. |
| Compression ratio | 8.8:1 |
| Power @ 6000 rpm | 65 bhp; 48 kW |
| Torque @ 3000 rpm | 72 ft-lb; 98 Nm |
| Top speed | 97 mi/hr; 156 km/hr |
| 0 to 60 mi/hr | 14.5 s |
| Transmission | 4-speed manual; synchromesh on 2, 3, and 4 |
| Gear ratios | I: 3.20; II: 1.92; III: 1:36; IV: 1.00; reverse 4.11 |
| Final drive ratio | 4.22:1 (some sources say 3.9:1) |
Chassis
| | |
| --- | --- |
| Wheelbase | 80 in; 2032 mm |
| Length | 137 in; 3,480 mm |
| Seating capacity | 2 |
| Curb weight | 1620 lb; 735 kg |
| Tires | 145 SR 13, rim width 4.5 in |
| Tire pressure | Normal driving: front 18 psi; rear 20 psi. Fast Driving: front 22 psi; rear 24 psi |
Brakes
| | |
| --- | --- |
| Make and type | Lockheed disc front, drum rear |
| Diameter | Front disk: 8.25 in. Rear drum: 7.0 in. diameter, shoes 1.25 in. wide |
Coolant, Oils, and Fuel
| | | | |
| --- | --- | --- | --- |
| | IMP. | U.S.A. | METRIC |
| Cooling system | 5.3 qt | 6.3 qt | 6.0 l |
| Engine oil (SAE 10W30; change every 6000 mi) | 3 qts | 3.6 qts | 3.7 l |
| Gear box (SAE 30) | 2.0 pts | | |
| Final drive (SAE 90) | 1.5 pts | | |
| Fuel tank | 6.0 gal | 7.1 gal | 27 l |