---
2002 Honda CR-V 4WD EX
The 1988 Toyota Landcruiser had over 200,000 miles and didn't get great gas mileage. When we moved from central Austin to the Driftwood area, my commute went from about 10 miles to about 28 miles. I sold the Landcruiser and bought this Honda CR-V from Howdy Honda in Austin, Texas. It has been a lot more reliable than the 2000 Honda Odyssey, and it averages about 20,000 miles per year.
2,354 cc four-stroke, four-cylinder, water-cooled engine with double overhead cams (see specifications below)
Purchased new on April 25, 2002 from Howdy Honda, Austin, Texas
VIN: JHLRD788X2C050603
On Sunday morning, September 20, 2015, while my daughter was driving it to church, she momentarily "zoned out," left the road (FM 150 near Driftwood), overcorrected, left the road again, struck a gravel embankment, and came to rest against a small tree. Thankfully, no one was injured. The insurance company declared the car a total loss at 248,984 miles.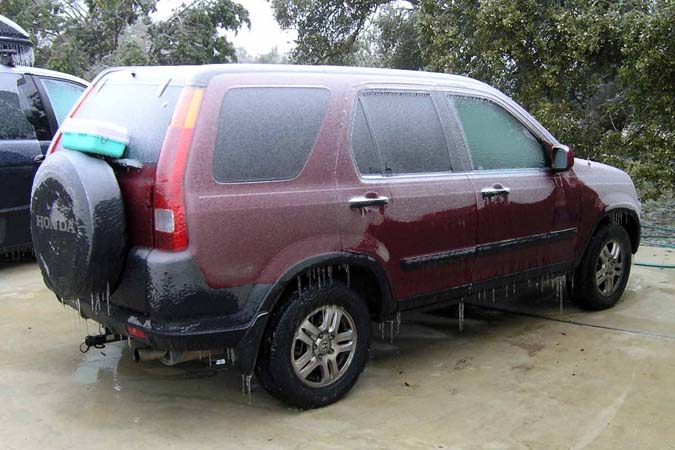 Ice-covered CR-V in the driveway at home near Driftwood, Texas.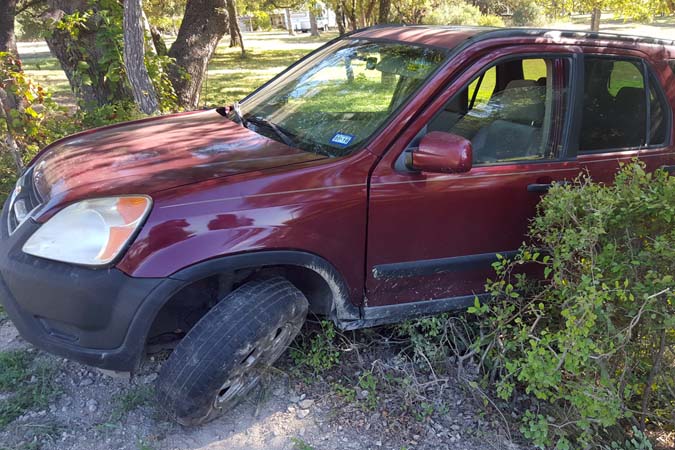 Wrecked CR-V along FM 150 near Driftwood, Texas.
Specifications (mostly from brochure and owner's manual)
Engine and Transmission
| | |
| --- | --- |
| Cylinders | Aluminum alloy inline 4 |
| Bore and stroke | 3.43 in x 3.90 in; 87.0 x 99.0 mm |
| Total displacement | 2,354 cc; 144 cubic in. |
| Compression ratio | 9.6:1 |
| Firing order | 1:3:4:2 |
| Spark plugs (4) | NGK :IZFR6K-11; Denso: SKJ20DR-M11; gap 0.04 in (1.1 mm) |
| Power @ 6000 rpm | 160 hp SAE; 194 kW |
| Torque @ 3600 rpm | 162 ft-lb; 220 Nm |
| Fuel consumption (EPA) | City: 22 mpg; Highway: 26 mpg (automatic transmission) |
| Transmission | 4-speed automatic |
| Final drive ratio | 4.4:1 (automatic transmission) |
Chassis
| | |
| --- | --- |
| Wheelbase | 103.1 in; 2,620 mm |
| Length | 178.6 in; 4,537 mm |
| Width | 70.2 in |
| Height | 66.2 in; 1,682 mm |
| Ground clearance | 8.1 in |
| Seating capacity | 5 |
| Curb weight | 3347 lb |
| Towing capacity | 1500 lb |
| Tires | P205/70 R15 95S |
| Tire pressure | Front: 26 psi; Rear: 26 psi. High speed driving: 35 psi front and rear |
Brakes
| | |
| --- | --- |
| Make and type | Four-wheel disk brakes; ABS |
| Diameter | 11.1 in; 282 mm |
Coolant, Oils, Fluids, and Fuel Capacities
| | | | |
| --- | --- | --- | --- |
| | IMP. | U.S.A. | METRIC |
| Coolant | 1.19 gal | 1.43 gal | 5.4 l |
| Engine oil (SAE 5W20) | 3.7 qt | 4.4 qt | 4.2 l |
| Transmission fluid (4WD): Honda ATF-Z1 | 2.7 qt | 3.3 qt | 3.1 l |
| Rear differential fluid (4WD): Honda Dual Pump Fluid | 0.9 qt | 1.1 qt | 1.0 l |
| Fuel (regular unleaded, 86 octane or higher) | 12.8 gal | 15.3 gal | 58 l |
| Windshield washer reservoir (U.S. vehicles) | 2.2 qt | 2.6 qt | 2.5 l |