---
2007 Dodge Sprinter
For a family with five children, even the Honda Odyssey minivan was tight for trips. Fortunately, Dodge began importing the Sprinter into the U.S. after the Daimler Chrysler merger, and it didn't seem as ugly as some of the other large-van choices. We bought this one (the new NCV3 version) from Huffines Dodge in Lewisville, Texas, where my Dad used to live before moving back to east Texas where he grew up. We're coming closer to 200,000 miles on this van as of March 2014. It is used almost every day, and is the only vehicle that works well for family trips. With the diesel engine (3.0 liter V6), it consistently gets around 20 miles per gallon. More photographs can be seen in the gallery at the bottom of the page.
144" long, standard roof, 10-passenger van
3.0 liter Mercedes V6 diesel engine (see specifications below)
Purchased new on May 25, 2007 from Huffines Chrysler Jeep Dodge in Lewisville, Texas
VIN: WD8PE745775173594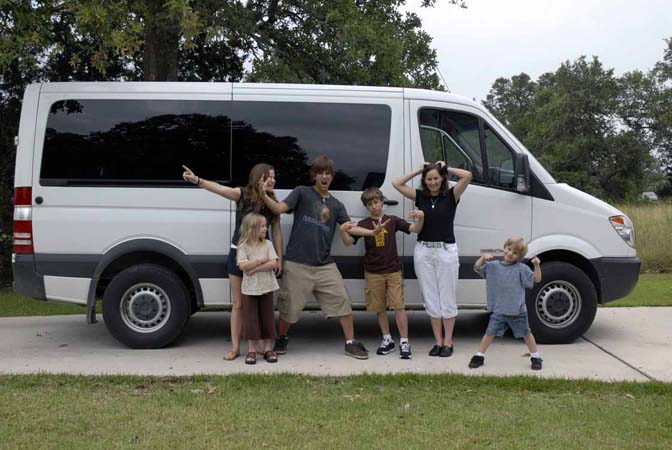 Just before our first family trip in the (then) new Sprinter van, August 2007.
Specifications (from the Owner's Manual and online sources)
Engine (OM642)
| | |
| --- | --- |
| Engine type | V6 Turbo Diesel |
| Bore and stroke | 83 x 92 mm; 3.3 in x 3.6 in |
| Total displacement | 2,987 cubic centimeters; 182.3 cubic inches |
| Valves | DOHC; 24 valves |
| Power at 3400 rpm | 154 hp |
| Torque at 1200 to 2400 rpm | 280 lb-ft |
| Compression ratio | 18:1 |
Drivetrain
| | |
| --- | --- |
| Type | Automatic (5 speed) |
| Final drive ratio | 4.1:1 |
| Wheels | 16 in. x 6.5 in. steel |
| Tires | LT245/75R16 |
Chassis
| | |
| --- | --- |
| Wheelbase | 144 in. |
| Seating capacity | 10 |
| Wheels | 16 in. x 6.5 in. steel |
| Tires | LT245/75R16 |
| Curb weight | 5476 lb |
| GVWR | 8550 lb |
| Towing capacity | 5000 lb |
| Ground clearance | 6.9 in. |
| Height (standard roof) | 96.3 in. |
| Width | 79.7 in. |
| Length | 232.5 in. |
| Interior height | 65.0 in. |
| Brakes | Front: disc; Rear: disc |
| Turning diameter | 47.6 ft |
Capacities
| | | |
| --- | --- | --- |
| | U.S.A. | METRIC |
| Tank capacity (including reserve) | 25.0 gals | 100 l |
| Fuel reserve | 5.3 gals | 20 l |
| Engine oil | 13.21 qt | 12.5 l |
| Coolant | 10.75 qt | 10.0 l |
| Windshield washer | 7.4 qt | 7.0 l |
| | |
| --- | --- |
| | Left-front view of 2007 Dodge Sprinter at home near Driftwood, Texas, 2007. |
| | Head-on view of 2007 Dodge Sprinter at home near Driftwood, Texas, 2007. |
| | 2007 Dodge Sprinter loaded with people and gear for a family trip to Florida, August 2007. |
| | Right rear oblique view of 2007 Dodge Sprinter loaded for a family trip to Florida, August 2007. |
| | Right front oblique view of 2007 Dodge Sprinter at a Fort Wilderness campsite at DisneyWorld, August 2007. |