---
Belgian Waffles
This is one of the kid's perennial favorites. They are relatively easy to make and are really, really good. I adapted this recipe from one at www.cuisinemagazine.com. Recipe yields about 7 large (7-inch diameter) waffles or about 14 half-waffle servings.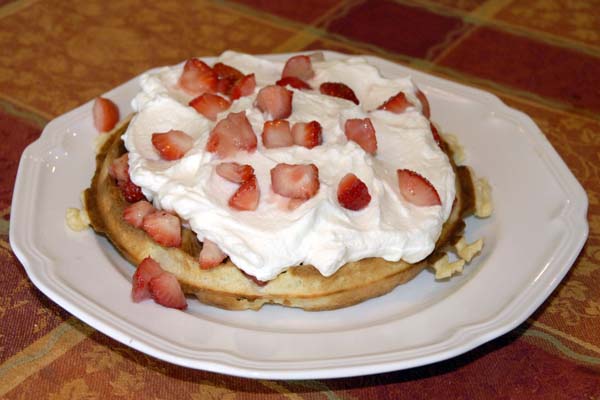 Ready-to-eat Belgian waffle with strawberry topping and whipped cream.
Ingredients
2 cups all-purpose flour
2 Tablespoons sugar
0.75 teaspoons salt
0.5 teaspoons active dry yeast
0.5 cup unsalted butter, melted
2 cups whole milk
3 eggs, separated (add before cooking)
Optional: fruit topping (~3 lbs. diced fruit of your choice)
Optional: whipped cream (1 qt. whipping cream and powdered sugar to taste)
Steps
Combine flour, sugar, salt, and yeast in large bowl.
Whisk melted butter and milk into dry ingredients.
Cover bowl and let rise for several hours or overnight.
Separate egg whites and yolks. Mix yolks into bowl ingredients. Whip whites until firm peaks form and fold into bowl ingredients without mixing too well. Batter should be lumpy (see photograph below)
Pour batter onto hot waffle iron; remove when browned.
Optional: Cover warm waffles with diced fruit (strawberries, peaches, or nectarines work well) and whipped cream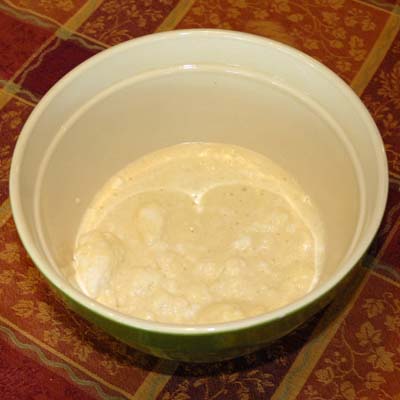 Lumpy texture of batter with egg whites beaten to firm peaks mixed with remainder of batter. Pour this mixture into a waffle iron for cooking. About 3/4 cup of this batter makes a single 7-inch diameter waffle about 1-inch thick.
---