---
1977 Suzuki GT750B Le Mans
I bought the red version of this motorcycle (the last production year for the vehicle affectionately known in the U.S. as the water buffalo) used in Austin, Texas in the late 1970s, more or less on a whim. It required a lot of tinkering to get it to run properly, and I didn't keep it very long. I borrowed the picture below from an online source (the photograph is from www.oldjapanesebikes.com/GT750_field_guide/page-113 and is credited there to Norm Green). At the bottom of the page is a photo gallery that contains a couple of black-and-white photographs of the GT750 I owned.
738 cc two-stroke, three-cylinder, water-cooled engine with three carburetors (see specifications below)
Purchased used in late 1970s in Austin, Texas
Sold in 1980 in Austin, Texas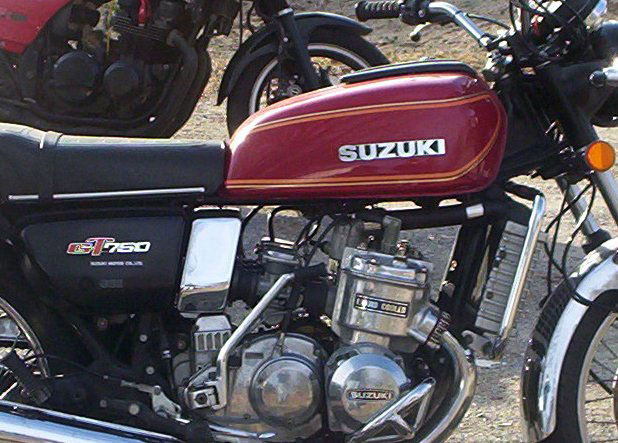 The red version of the 1977 GT750B, like the one I owned. Photograph credited to Norm Green and found on the "Field Guide to Old Japanese Motorcycles" web site mentioned above.
Specifications (from various online sources)
Engine and Transmission
| | |
| --- | --- |
| Cylinders | 3 in line; transverse; light aluminum alloy with cast-iron sleeves; two cycle |
| Bore and stroke | 70.0 x 64.0 mm; 2.76 x 2.52 in |
| Total displacement | 738 cc (45 cubic inches) |
| Compression ratio | 6.7:1 |
| Power @ 6500 rpm | 70 hp |
| Torque @ 5500 rpm | 61.5 ft-lb; 8.5 kg-m; 83.4 N-m |
| Top speed | 119 mi/hr |
| 0 to 60 mi/hr | 5.3 s |
| Carburetors | Mikuni BS40 (3); constant velocity, 40 mm |
| Transmission | Five speed; chain drive (40/15) |
| Gear ratios | I: 2.85 (13/37); II: 1.74 (19/33); III: 1.36 (22/30); IV: 1.13 (24/27); V: 0.96 (26/25) |
| Final drive ratio | 3.67 (40/15) |
Chassis
| | |
| --- | --- |
| Length | 87.2 in; 2,215 mm |
| Width | 34 in; 865 mm |
| Height | 44.2 in; 1,125 mm |
| Wheelbase | 58.7 in; 1,490 mm |
| Seat height | 31.8 in; 810 mm |
| Curb weight | Wet: 529 lb; Dry: 472 lb |
| Tires | Front: 3.25 x 19; Rear: 4.00 x 18 |
Brakes
| | |
| --- | --- |
| Type | Dual front disk, rear drum |
| Diameter | Front disk: 129 mm; Rear drum: 180 mm |
Coolant, Oils, and Fuel
| | | | |
| --- | --- | --- | --- |
| | IMP. | U.S.A. | METRIC |
| Cooling system (water based) | 4.0 qt | 4.8 qt | 4.5 l |
| Engine oil | 1.6 qt | 1.9 qt | 1.8 l |
| Transmission | 1.9 qt | 2.3 qt | 2.2 l |
| Fuel tank | 3.7 gal | 4.5 gal | 17 l |
| | |
| --- | --- |
| | Left-front view of 1977 Suzuki GT750 in 1978 (in front of my brother's house on Mission Ridge, Austin, Texas. |
| | Right-side view of 1977 Suzuki GT750 in 1978. |