---
1986 BMW K75T
I think the K75T has been my favorite motorcycle (at least until the 2013 R1200R). I purchased it new in 1986 for $4850 ($5491 with freight, inspection, a windshield, one set of smaller "city" saddlebags, a larger set of touring bags, and a luggage rack). It has plenty of power, is fast enough, handles well, and gets decent gas mileage. Once again a new motorcycle prompted my brother and I to take a trip together (to Louisiana, Arkansas, and Missouri). Corrosion in the expensive aluminum tank (from water leaking into the tank through the gas cap) has been a common problem with these motorcycles, as has the speedometer.
750 cc four-stroke, three-cylinder, water-cooled, counterbalanced engine (see specifications below)
Purchased new on March 25, 1986 from Lone Star Cycle Motive, Austin, Texas
I still ride this motorcycle, which passed 38,000 miles in October 2011
VIN: WB1057401G0130896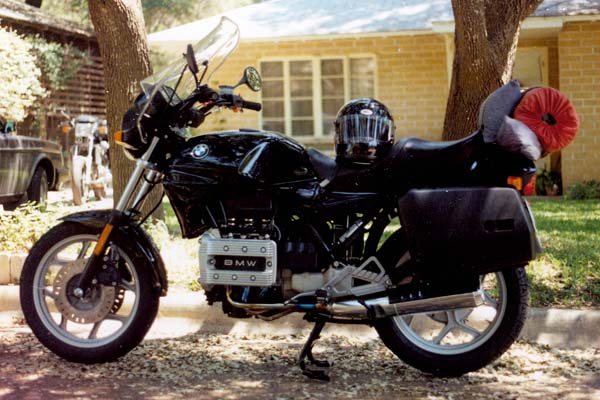 1986 BMW K75T with BMW windscreen and saddlebags in Austin, Texas just before departure on a trip to Missouri. Tent and sleeping bag are bungied onto the luggage rack.
| | |
| --- | --- |
| Type | Longitudinal inline flat-three, four-stroke, two overhead camshafts |
| Cooling | Water |
| Fuel delivery | Electronic fuel injection |
| Displacement | 740 cc |
| Cylinders | 3 |
| Bore & Stroke | 67 x 70 mm |
| Compression ratio | 11:1 |
| Maximum RPM | 8700 |
| Power | 75 hp (55 kW) at 8500 rpm |
| Torque | 50 ft-lb (69 N-m) at 6750 rpm |
| Top Speed | >123 mi/hr (200 km/hr) |
| Fuel Consumption | 63.2 mi/gal at 56 mi/hr; 51.7 mi/gal at 68 mi/hr |
Transmission, Tires, and Brakes
| | |
| --- | --- |
| Clutch | Single dry plate, clutch plate diameter 6.5 in (165 mm) |
| Gearbox | 1st: 4.50; 2nd: 2.96; 3rd: 2.30; 4th: 1.88; 5th: 1.67 |
| Drive Mechanism | Shaft |
| Final Drive | 3.20:1 |
| Front Suspension | Telescopic fork, 185 mm (7.3 in.) travel |
| Rear Suspension | BMW Monolever swinging arm, 1 suspension strut, 110 mm (4.33 in) travel |
| Front Wheel | Cast alloy, MTH 2.50 x 18 E |
| Front Tire | 100/90 x 18 56H tubeless (bias tire) |
| Rear Wheel | Cast alloy, MTH 2.75 x 18 E |
| Rear Tire | 120/90 x 18, 65 H tubeless (bias tire) |
| Front Brakes | 2 discs, 285 mm (11.2 in.) diameter |
| Rear Brakes | Drum, 200 mm (7.87 in.) diameter |
Dimensions and Capacities
| | |
| --- | --- |
| Length | 2220 mm (87.4 in.) |
| Width over Mirrors | 900 mm (35.4 in.) |
| Height (Top of Fairing) | 1300 mm (51.2 in.) |
| Seat Height | 810 mm (31.9 in.) |
| Wheelbase (Unladen) | 1516 mm (59.7 in.) |
| Ground Clearance (Unladen) | 175 mm (6.8 in.) |
| Weight (Dry) | 204 kg (450 lb) |
| Weight (Curb) | 228 kg (503 lb) |
| Gross Weight Limit | 450 kg (992 lb) |
| Fuel Tank Capacity | 21 L (5.6 gal) |
| Engine oil capacity | 3.75 L (3.9 U.S. quarts) |
| Gearbox oil capacity | 850 +/- 50 cubic cm (0.90 +/- 0.05 U.S. quarts) |
| Final drive capacity | 260 cubic cm (0.28 U.S. quarts) |
| Fork capacity (each) | 330 +/- 10 cubic cm (11.16 +/- 0.34 U.S. fluid oz.) |
Part Numbers
| | |
| --- | --- |
| Spark plugs (3) | Bosch X5DC |
| Oil filter | 11421460845 |
| Air filter | 13721460337 |
| Fuel filter | 16121455126 |
| Fuel pump | 16121461576 |
| Fuel pump strainer basket | 16121455126 |
| Fuel pump bushing | 23311451767 |
| Fuel gauge (in tank) | 62161459565 |
| Fuel gauge gasket ring | 62161459608 |
| Fuel cap gasket set | 16119062461 |
| Key blank (folding) | 51251453659 |
| Key blank (steel) | 51251233554 |
| Oil level window | 11117661648 |
| Oil/water pump shaft | 11411461793 |
| Oil/water pump rotor | 11411461173 |
| Cooling fan (electric) | 17401460427 |
| Front fender (front segment) | 46612309731 |
| Windscreen | 46632303245 |
| Clutch cable | 32732324960 |
| Rear brake switch | 61311459569 |
| Starter relay switch | 61311459008 |
Photo Gallery
Click on images below for higher-resolution version (opens in new window)
| | |
| --- | --- |
| | Left side |
| | Right side |
| | Left front |
---